Rapid growth causes constant, radical changes in your business
Here is how monday.com supports your growth journey
Rapid growth causes constant changes in your business. In this blog, you will gain insights on how monday.com supports your growth journey and its processes.
Introduction and overview
If you are working in a rapidly growing company, you will undoubtedly have experienced, how challenging it can be to keep up with the development – especially regarding recruiting and onboarding new employees, ensuring robust workflows and procedures, as well as monitoring and managing the daily operations. If these challenges sound familiar, it will be advantageous to continue reading, as you will gain insights on how to handle some of the growth-related challenges, as well as on how monday.com can be used as a flexible and essential tool to support your journey.
Rapid growth changes your business radically
Take a moment to think about how quickly complexity advances. If your company, at its starting point, has 10 employees and has a yearly growth rate of 50% – then you will have 76 employees in five years. If the growth is even more extensive, e.g., 100% yearly, in five years you will have a business with 320 employees. With a growth rate of 200% yearly, the number of employees in five years will be a total of 2430!
The sheer number of new employees that needs to be onboarded, integrated, and motivated to work towards a shared set of goals and values, is an element that increases complexity into your organization. So, even if your company is successful in creating a high customer demand, the rpid increase in people is a big risk to the growth journey.
Systematize and control your daily operations with a 5P Operating Model
A way of getting an overview can be to establish a formal, structured operating model.
What is an operating model?
An operating model ensures that your company's strategic goals are aligned with its infrastructure, and that the daily work flows as smoothly as possible. The requirement for the operating model develops as the company grows and applies more complexity in terms of more employees, customers, products, management layers, locations, systems etc.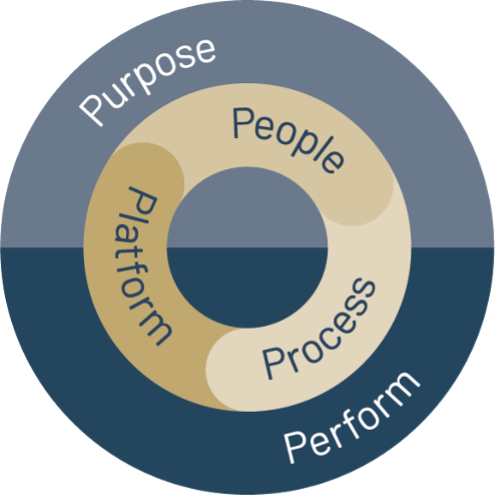 The 5P-model depicted above, is composed of 5 P's that stands for:
Purpose: Align and focus all relevant stakeholders around one vision
People: Ensure that the right people are in the right places and positions
Process: Ensure that workflows are robust and efficient, to deliver high quality
Platform: Physical location, determining the IT-structure and how to be organized
Perform: How we are going to execute the strategy in everyday work
The strength of the 5P-model is, that with its systematic approach to a company's "engine room", it can enable the leaders to plan ahead, instead of the endless firefighting mode that many high growth companies find themselves in.
The model works for both smaller, local companies in growth, as well as for rapidly growing global companies. The model can be tailored to each level of your company – from the early growth journey to a potential IPO.
You can read more about how to work with structuring your tasks via the 5P-model in my book: Vild Vækst – sådan håndterer du vækstrejsen fra ti til tusind medarbejdere.
monday.com supports all elements of your operating model
When I work with growth companies, we often use monday.com, because it allows us to establish real, functioning processes and systems, while we simultaneously work on our improvement plans. In other words: we develop the solutions directly in monday.com without having to involve the IT-department, and we have the first processes up and running in no time.
Below you can see how monday.com supports all 5 elements of the 5P-model:
Purpose: Align and focus all relevant stakeholders around one vision.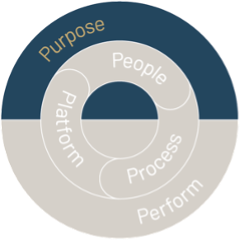 An essential factor to ensure alignment in all employees regarding goal and vision, is to define the common goals and break down the related initiatives in the entire organization. A commonly used method to do this, is called OKR: Objectives and Key Results. Read more about the method here: Whatmatters.com.
monday.com has several templates for OKR available, and by using them, you will be well on your way.

People: Ensure that the right people are in the right places and positions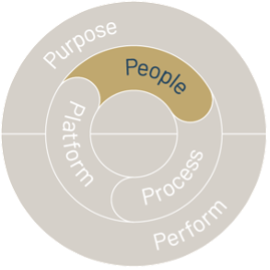 Traditionally, recruiting, onboarding and developing employees required investing in a complete HR-system – this is no longer necessary. You can create a fully functioning HR-system directly in monday.com, and you will furthermore find templates that will assist you in the process. I have established a complete HR-system in just a few weeks, in monday.com, containing:
Employee directory (in a secured space in monday.com, complying with GDPR).
Recruitment procedure, including a form that could be placed directly on our website, along with a dashboard with a progress-overview.
Onboarding process
A system for handling inquiries directly from employee to HR
Employee satisfaction surveys
Competency development plans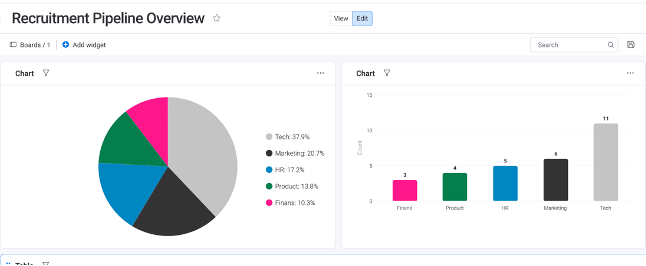 Process: Ensure that workflows are robust and efficient, to deliver high quality
A typical trade and/or production company has several key processes, that can ALL be handled via monday.com, e.g.:
Sales and customer relations processes (CRM)
Marketing plans
Inventory management
Customer support
IT-support
Logistics management
Project management
And much more
Put shortly, all critical processes in any given company, can be supported by monday.com.
And all the premade monday.com templates will make the journey even more smooth for you.
Platform: Physical location, determining the IT-structure and how to be organized
When working with the term "platform" in the 5P model, it covers three sub-areas: locations, IT-systems, and organizational structure.
monday.com can, in principle, support all the sub-areas, but especially the IT-infrastructure and equipment status will be helpful.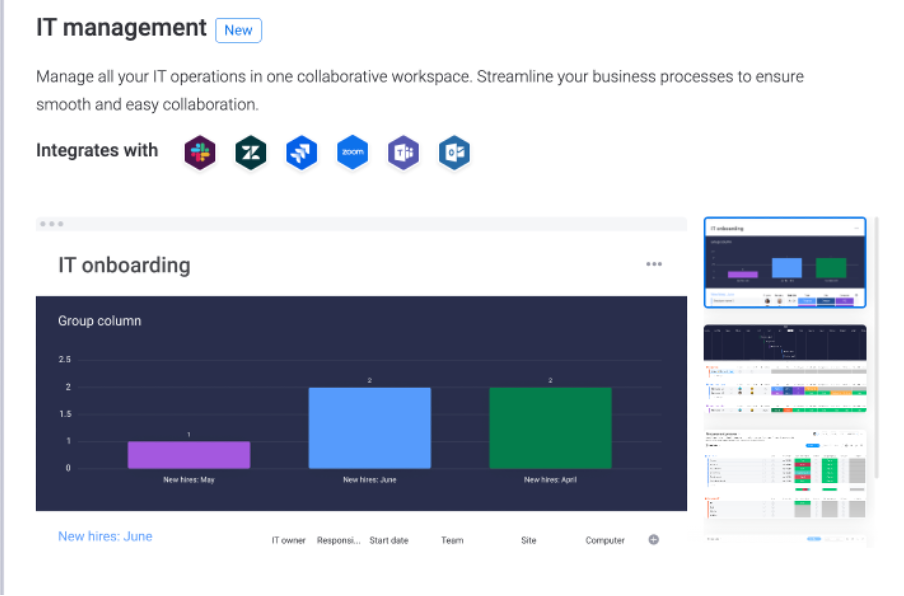 Perform: How we are going to execute the strategy in everyday work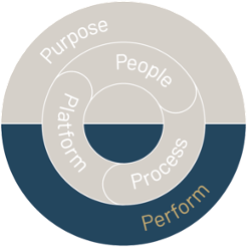 In the 5P model, the term "perform" covers all the systems for daily operations, that ensures that operations can be monitored and executed efficiently, and that efficient and productive meetings will be held.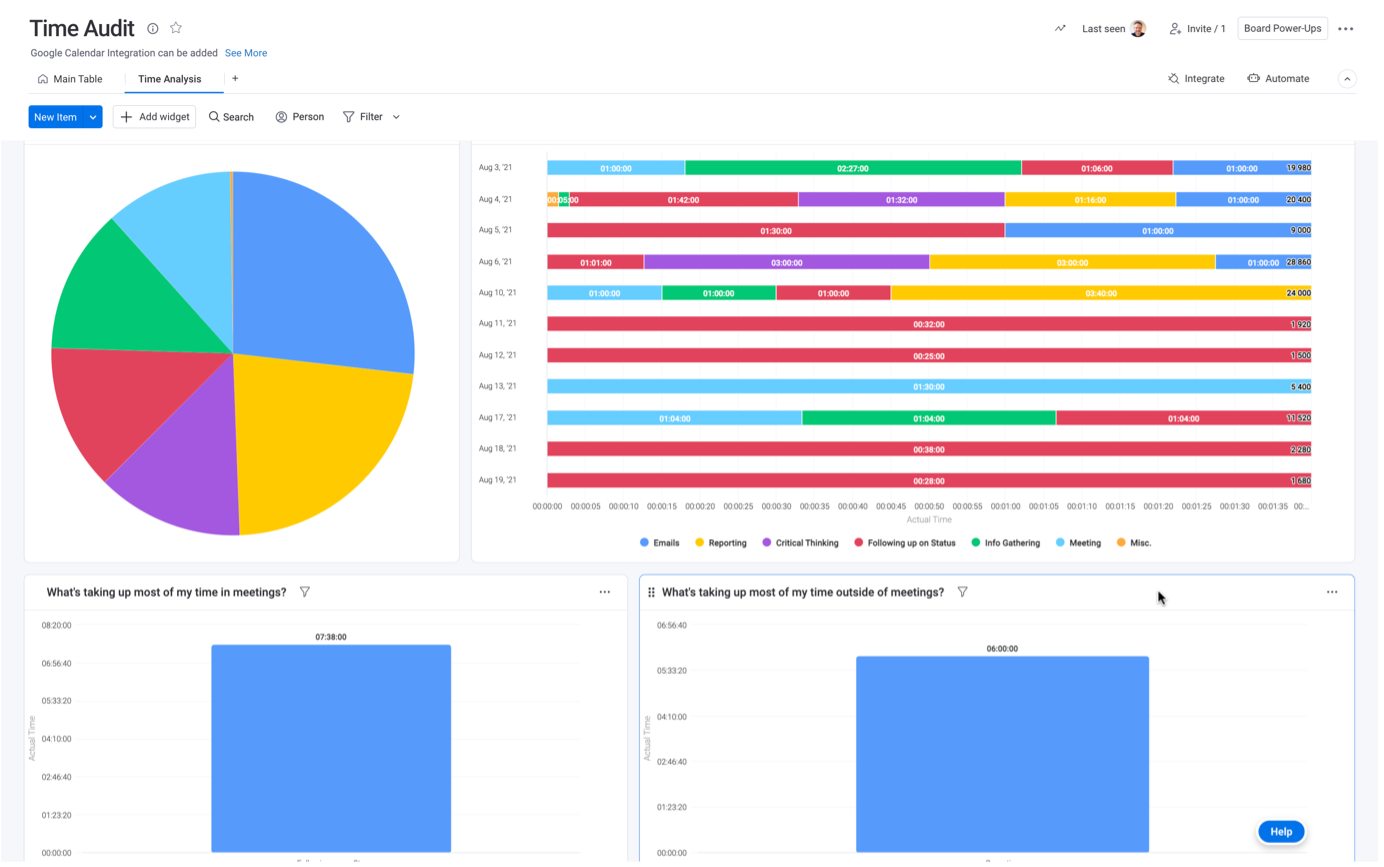 monday.com can be used to both schedule meeting, note actions, automate follow-ups and of course, illustrate performance in some of the many boards that can be created.
Conclusions:
Growth introduces complexity into your business, especially when it comes to growth in number of people. You will soon need to structure and control your operations through an Operating Model. With the 5P model, it is possible to create an overview of your operation. The model consists of 5 elements: Purpose, People, Process, Platform and Perform. monday.com can support your work with all five elements of your operating model, enabling you to quickly convert your analyses and preparation to well-functioning processes that work immediately.
About Lasse Mønsted:
Lasse Mønsted has started several new companies, been employed in startups and scaleups, worked as a consultant and has been in top positions in large, mature corporations such as Novo Nordisk, PwC and Valcon.
He has worked with logistics, production, processes, quality, technology, development, HR and leadership in Denmark, USA and many other countries.
He has also been Global HR-Director in the successful Icelandic biotech-company, Alvogen, that grew from 0 to 3000 employees in 35 countries in just 8 years. After 8 years, Alvogen had a 1 billion USD turnover, and a market value of 5 billion USD. A growth case that is today used in teaching Harvard Business School students.
monday.com 
Want to know more about monday.com? Read more interesting posts about the workOS here.